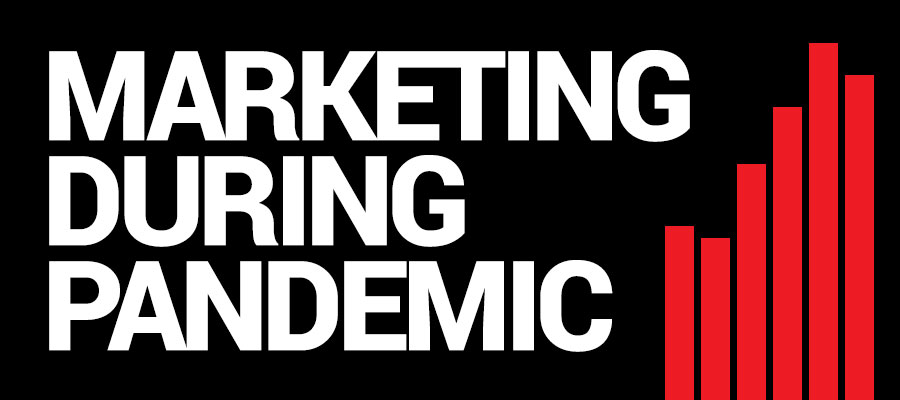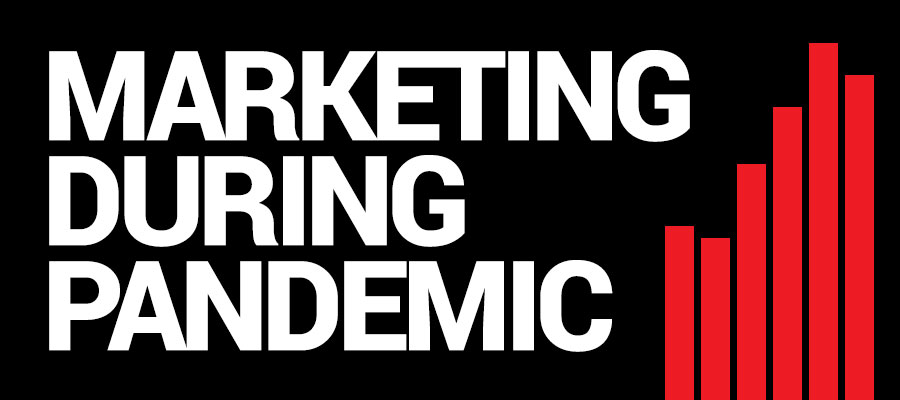 Marketing Tips for Small Businesses During the COVID-19 Pandemic
It's no secret that businesses are struggling during the COVID-19 pandemic. We're seeing once thriving businesses shut their doors temporarily and sometimes permanently. It's such a strange time we live in right now and many can't help but feel unsure about what's to come.
We feel fortunate to work in an industry where we can work from home at full capacity. We also feel privileged to be able to give businesses the tools they need to take online orders, set appointments, process payments, and communicate important updates.
Now is the time to make sure you're doing everything you can to keep up with the latest in online marketing and search engine optimization tactics to ensure your website doesn't start losing rankings — even if your business isn't open. We've compiled a short list of marketing tips for small businesses during the COVID-19 pandemic.
Google My Business
Arguably the silliest name for a platform, but it is by far one of the most important tools for businesses to utilize. Especially now. Google My Business listings are special listings that show alongside search engine results. You've seen them a million times, especially when searching for something local. Here's an example: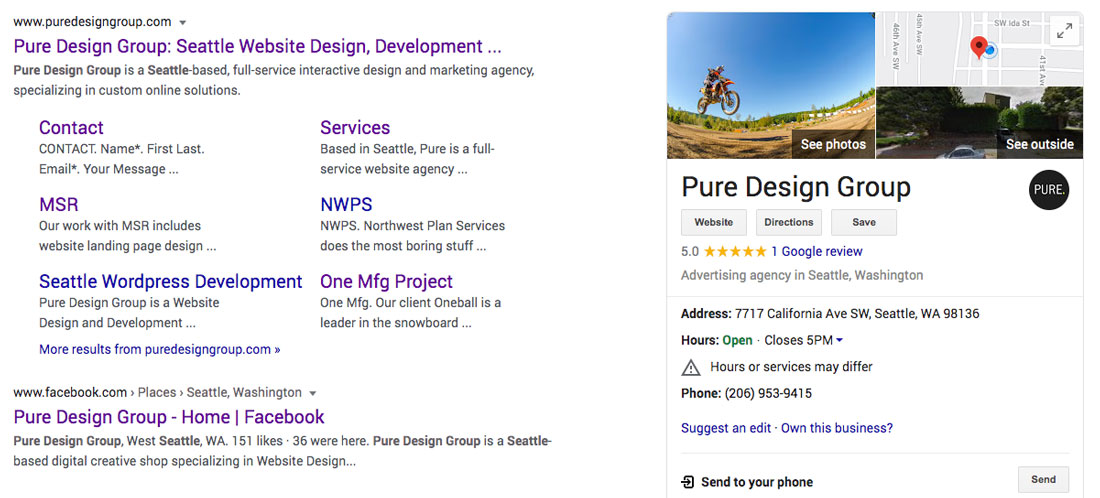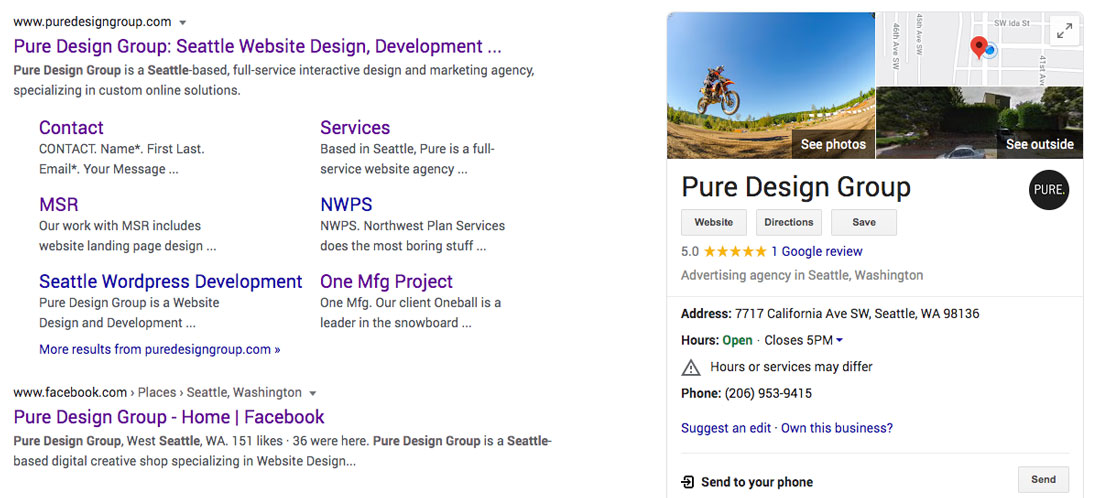 Google My Business listings give searchers a summary of information about a business including hours, addresses, phone numbers, photos, and timely information like peak business hours and whether the business offers special services like delivery or curbside pick up.
If you haven't already, you need to claim your Google My Business listing by going to business.google.com. Once your listing has been claimed and verified, you need to update the following
Business name
Address
Phone number
Website
Description
Photos
When adding your name, address, and phone number make sure they match exactly what you have on your website. These are called "citations" and it's important that they are consistent.
In addition to basic business information, Google has recently announced special temporary attributes and tools to use during the pandemic, like "Delivery", "Takeout" and "Order Online". Make sure to include as much information as you can in your GMB listing to give searchers all the important information they need right off the bat.
Communication
Chances are likely your customers are wondering if you're open, if you're taking any extra precautions, and if you have any special instructions (ex. Calling from their car for curbside delivery). Communication right now is absolutely essential. If you have a blog, update it regularly with any information that will help your customers use your services or make a purchase whether online, over the phone, or in-person.
If you don't have a blog, social media is the next best thing. In fact, you should be updating your social channels with information daily. Keep in front of your audience, even if you're temporarily closed. The worst thing you can do right now is nothing. You will run the risk of losing your customer base.
Google Ads
Google Ads is a pay-per-click advertising program that enables you to show ads to searchers above organic search results. Google Ads are a great way to attract attention of searchers that may not be familiar with your business. Setup can kind of be a pain as there are a whole lot of moving pieces but it can be super effective at driving new traffic to your website.
There are many online tutorials and classes that you can take to show you how to set up effective Google Ad campaigns.
Ecommerce
Ecommerce shopping has reached an all time high. Due to the pandemic, many places are closed to the public and many people are more inclined to make an online purchase than head to a store and risk infection. Adding an ecommerce solution to a website isn't as painstaking as you might think. Sure, you might need some assistance from a Developer, but it might just be the thing that keeps your business alive. Whether you're selling widgets, a service, food, or other products, an ecommerce solution will help drive additional sales and revenue.
Email Marketing
Email marketing has been around for ages — rightfully so, it can be fantastic at driving traffic to your website and generating sales. Even if you've never emailed your customers before that doesn't mean you shouldn't start now. Now is exactly the time!
The first thing to be aware of is that there are some pretty strict laws regarding sending mass emails (see here). Once you get the hang of it, email marketing is a great way to keep in touch with previous customers, make announcements, introduce new products or services, and showcase sales or specials.
There are many online tools to help send emails and track important actions like how many people open the email, how many unsubscribe, how many make a purchase, etc. One of our favorite tools is MailChimp. Several of our clients also use Constant Contact. Whichever tool you use, make sure to keep your email list up-to-date.
Analyze Web Traffic
Do you know how visitors find your website? Do you know what pages they review before contacting you or making a purchase? Do you know how many other websites link to your website? Analyzing your web traffic is a key component of online marketing. With the pandemic, online shopping behavior has changed. People are spending more time researching and looking at products and services. And, they're spending more money than normal. By reviewing the behavior of your website visitors, you can identify potential problem areas or areas underutilized.
Our favorite tool to analyze web traffic is Google Analytics. It can take a bit of education to understand what all the data means, but there are a ton of free online tutorials and classes to help familiarize yourself with Google Analytics and data analysis.
These are just a few of the marketing efforts you should be taking during the COVID-19 pandemic. If you don't know where to start, need help with any of the above, need a new or improved website, or need marketing consulting services, please reach out to us. We're happy to help.