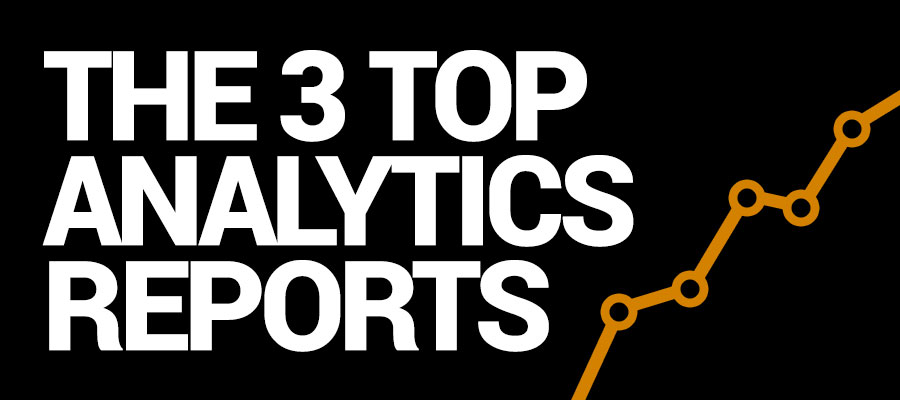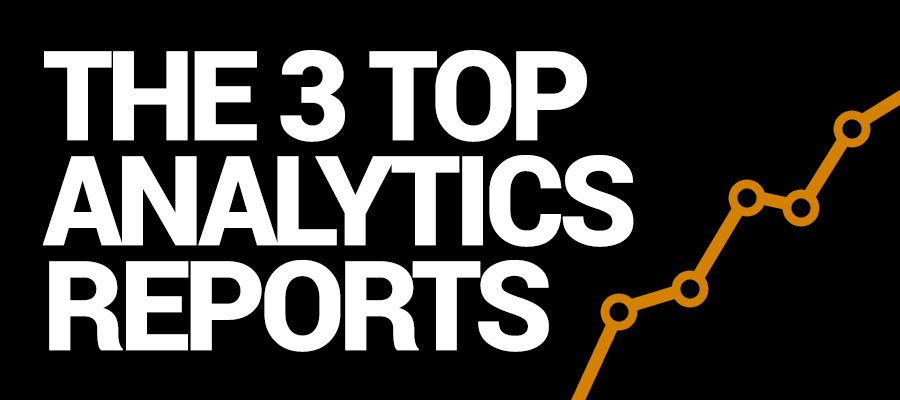 Top 3 Standard Google Analytics Reports You Should Be Monitoring
Do you know how many website visits you get daily? Do you know how visitors get to your website? Do you know what visitors do once they're on your website?
If you're the owner of a website, or in charge of marketing one, you should be able to answer the questions above. If not, read on for a surface view of some important reports and sections you should get to know really well.
Before we get too in-depth, there's some housekeeping we need to take care of.
There are several website analytic platforms on the market. The one we're talking about now is Google Analytics which is the most widely used website analytic platform.
You must have a Google account in order to access Google Analytics.
You must have Google Analytics tracking code installed on your website. Here's how. (You may need help from your webmaster.)
You'll need general knowledge of how to navigate around Google Analytics. Here's a good tutorial.
You'll need basic knowledge of the top Google Analytics metrics. Here you go.
Channels
Acquisition > All Traffic > Channels
This is arguably the most popular overview you can get from Google Analytics. Channels shows you all of the different categories of channels that send traffic to your site. These include:
Organic
Organic traffic comes from visitors performing a search in a search engine and clicking a non-paid, organic listing that leads to a page on your website. Examples: Google, Bing, Yahoo.
Paid
Paid traffic comes from ads you place on search engines or social media platforms. Examples: Google Ads or Facebook Ads.
Direct
Direct traffic comes from visitors typing in your URL directly into their address bar or (sometimes) from a link in an email.
Referral
Referral traffic comes from links on other websites that direct to a page on your website. Also referred to as backlinks, these links play a large role in determining your website rank. The higher quality links from relevant sources that you have, the better your site will rank.
Social
Social traffic comes from unpaid links on social media channels. Examples include Facebook, Twitter, and Pinterest.
Display
Display traffic typically comes from banner ads on 3rd party websites.
Email
Email traffic comes from links within email. As we mentioned before, some traffic from emails can be categorized (often miscategorized) as direct. As of late, we've seen an increase in correctly categorized email traffic sources.
Other
Other traffic comes from sources with miscategorized sources or mediums. Here's how to sort this traffic into the correct channel.
But why is knowing where your website traffic comes from important? If you're plunking thousands of dollars into Google Ads, banner ads on 3rd party websites, social media management, or any other advertising channel, this section will tell you if you're spending your money wisely or if it's time for a change. You can see how many users are coming from those channels, how much time they spend on your site, and how many other pages they looked at. This data is vital to knowing where to allocate marketing dollars.
To get into a little more detail — you're able to see what other websites are driving traffic via referrals. Perhaps someone included a link to your website on Reddit or a happy customer included a link on their website to yours — knowing this information can help inform other marketing decisions.
Events
Behavior > Events > Top Events
There is no better way to determine the efficacy of marketing efforts than by tracking highly relevant actions on your website. The actions, or "conversions", can include: newsletter sign ups, ecommerce purchases, mobile clicks on phone numbers, and clicks on mailto: links.
The one caveat about being able to track events is that, in most cases, you need to add event tracking code to your website, which usually requires the help of a web developer. (But it's oh so worth the expense!)
Once you have event tracking code installed, check out the "Top Events" report and add the secondary dimension of "Source / Medium". This will tell you the marketing channels that are driving the most relevant and important traffic.
Site Content
Behavior > Site Content
In these reports, you can see the pages that get the most traffic, the top landing pages, and the top exit pages. Why is this information important? For many reasons, but let's explore one. Let's say the goal of your site is to drive traffic to your blog. Within this section you can see if the blog is getting traffic and you can see which blogs are driving the most traffic. By analyzing this data, you can make editorial decisions — based on what users seem to find relevant — and create other blog posts with similar content and appeal to help drive additional traffic. Also, you can see how long visitors are on the blog pages. If the bounce rate is higher than 80% or time on page is less than 30 seconds for an 800 word blog, that tells you that the blog content probably needs improvement. And since the search engines love updated and improved content, making adjustments will help with your search engine rankings.
We've barely scratched the surface here. Google Analytics has an incredibly large amount of built-in reports that are helpful. You can also customize your own reports to show you exactly the data you are looking for. Once you're a pro at reading Google Analytics, give Google Data Studio a try to help visualize your data. (A must if you're reporting to clients or individuals that have a hard time reading stats).